緊急疏散方向
Emergency Exit Map
為配合消防演習,九月二十四的上課鐘響時間將有所更動
2:00 – 2:50 第一堂課
2:50 – 3:00 消防演習
3:10 – 3:55 第二堂課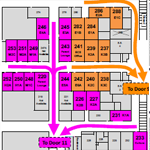 學校消防演習
根據 Fairfax County 的規定,學校在每年開學後必須要進行一次消防演習,以確保所有師生在緊狀況時能夠即時有效的疏散到安全地點。
實驗中文學校消防演習的日期定在開學後第一個月裡舉行,請所有家長們配合演練。演習所需時間在十至二十分鐘之間。
消防演習需知
演習開始後,請各班老師和助教帶領學生,按照指示方向下樓,再從指定大門離開學校。
離開學校大門後,請繼續往停車場移動疏散,在指定地集合。
疏散時請不要嘻笑與奔跑。
老師們會在指定集合地點點名,確定班上所有學生都己到齊。
等所有班級人數清點完後,所有老師和學生再依照先前疏散方向返回教室上課。
學校將會有十位穿著橘色背心的家長義工協助在場所有老師和學生,確保疏散時的秩序與人員的安全。
在學校裡的所有家長都得參與消防演習活動。
The class schedule will be changed on 9/24 due to the fire drill:
2:00 – 2:50 First Session
2:50 – 3:00 Fire Drill
3:10 – 3:55 Second Session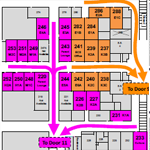 Please log in to ECS Online to view the latest Emergency Exit Direction Map.
In case of emergency, all people should following the direction indicated in the map below to exit the school building:

Classrooms with orange color should exit through Door 9
Classrooms with pink color should exit through Door 11
School Fire Drill
According to Fairfax County regulation, our school is required to conduct a fire drill once a year after the school begins to ensure all personell is familiar with the building evacuation procedure in case of a fire or other emergency.
The drill will be held within the first month after the school starts. The time of practicing of the fire drill is approximately between 10 to 20 minutes.
Fire Drill Procedure
Once the fire drill starts, the teachers and classroom TAs should follow the designated emergency exit routes and lead the students to exit the building.
After exiting the building, all personnell should keep moving away from the building toward the parking lot.
During the evalucation, keep quite and do not run.
Each teacher will conduct head-counts for his/her own class to ensure no one is missing during the evacuation.
After the headcounts are completed, all teachers and students can return to their own classrooms.
The school will assign 10 volunteers (wearing the orange safety jacket) to assist the teachers and students and ensure the evacuation procedure is accurately conducted.
All parents staying in the school should participate in the fire drill.