學校募款項目
Fundraising Items
『亞洲梨團購 III』開始時間將從十月二十三日延至十一月六日。
The starting date for "Asian Pears Order III" is postponed from 10/23 to 11/6.
所有募款項目仍在籌劃中,請拭目以待!
We are still planning for the awesome fundraising items....
『櫻桃媽媽廚房』台式涼麵
懷念正港台灣味涼麵嗎?櫻桃媽媽的涼麵,讓你一口就吃到台灣故鄉味!

Q彈的麵條,搭上以芝麻、花生、大蒜為基底的醬汁,再佐以清脆黃瓜絲及紅蘿蔔絲,拌一拌馬上來一口,香氣撲鼻而來,讓你忍不住一口接一口!清爽健康無負擔!

由於櫻桃媽媽對食物的新鮮度要求很高,所以每份涼麵接受訂購後,當天手工製作,並且當天送貨到學校。

---

ECS Online 網路預訂將開放到星期四晚上11:59截止,星期日下午四點, 四點半以前於學生餐廳繳費領取。
請自備購物袋,零錢(恕不找零),若以支票付款,抬頭請寫 ECS。
Cherry Mom Kitchen - Taiwanese Style Cold Noodles
Do you miss the authentic Taiwanese Style Cold noodles? Cherry Mom's Taiwanese Style Cold Noodles makes you feel like you are back in Taiwan!

Freshly cooked Noodles with sauce made out of sesame, peanuts and garlic, combined with shredded cucumber and carrots, all stirred together, the flavorful combination will entice you to eat one bite after another! Light and healthy!

Freshness of the food is number one priority for Cherry Mom, so the cold noodles are made on the day of delivery.

---

Pre-order online by 11:59pm on Thursday at ECS Online and pick up your bread on the following Sunday at 4pm at the 1F Student Cafeteria.
Please make check payable to ECS or bring exact cash, along with a reusable shopping bag.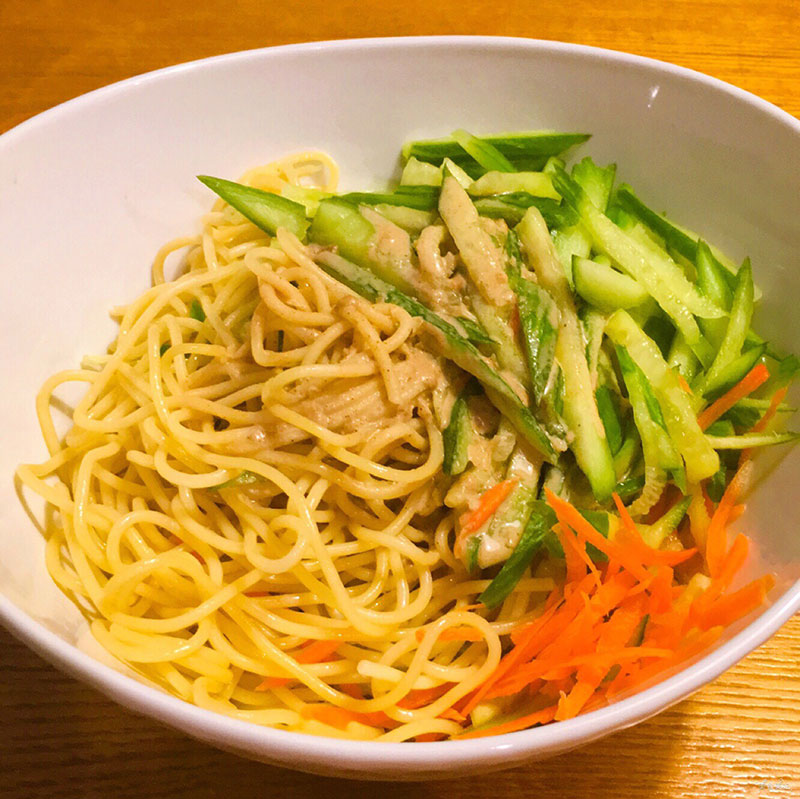 | | | | | | | |
| --- | --- | --- | --- | --- | --- | --- |
| Fundraising Event Status: | | Current | | Future | | Expired |
Description
Starting
Date
End
Date
Pick-Up
Date
更多募款項目將陸續加入,請家長們多多捧場。
More fundraising items for current school year will be added later.
過去募款活動: