武漢肺炎防疫
Coronavirus Prevention
武漢肺炎防疫
針對中國湖北省武漢市首次發現的新型冠狀病毒引起的呼吸道疾病(俗稱武漢肺炎)爆發,在包括美國及國際間已有多起感染確診病例。實驗中文校方正密切注意最新動態,以保護學生和員工是我們的首要任務。
因此,我們要求全校,包括老師,教職員,學生和所有相關的家庭成員,遵循以下方針:
如果有下例情形發生,請自主在家進行個人健康防護兩週,請立即知會校方說明情況

,隔離期間將不計缺席

。在自主隔離期間,請保持聯繫。

本人或家人自疫區或鄰近地區返校,或有相關接觸史者。
本人或家人有疑似症狀如發燒,咳嗽或呼吸困難。

由國家疾病防治中心 (CDC - Centers for Disease Control and Prevention) 所提供關於新型冠狀病毒的資訊:
平常儘量避免至人多擁擠、空氣不流通之處,也避免接觸野生動物。勤洗手,維護個人衛生。
感謝您的合作!
武漢肺炎資訊圖表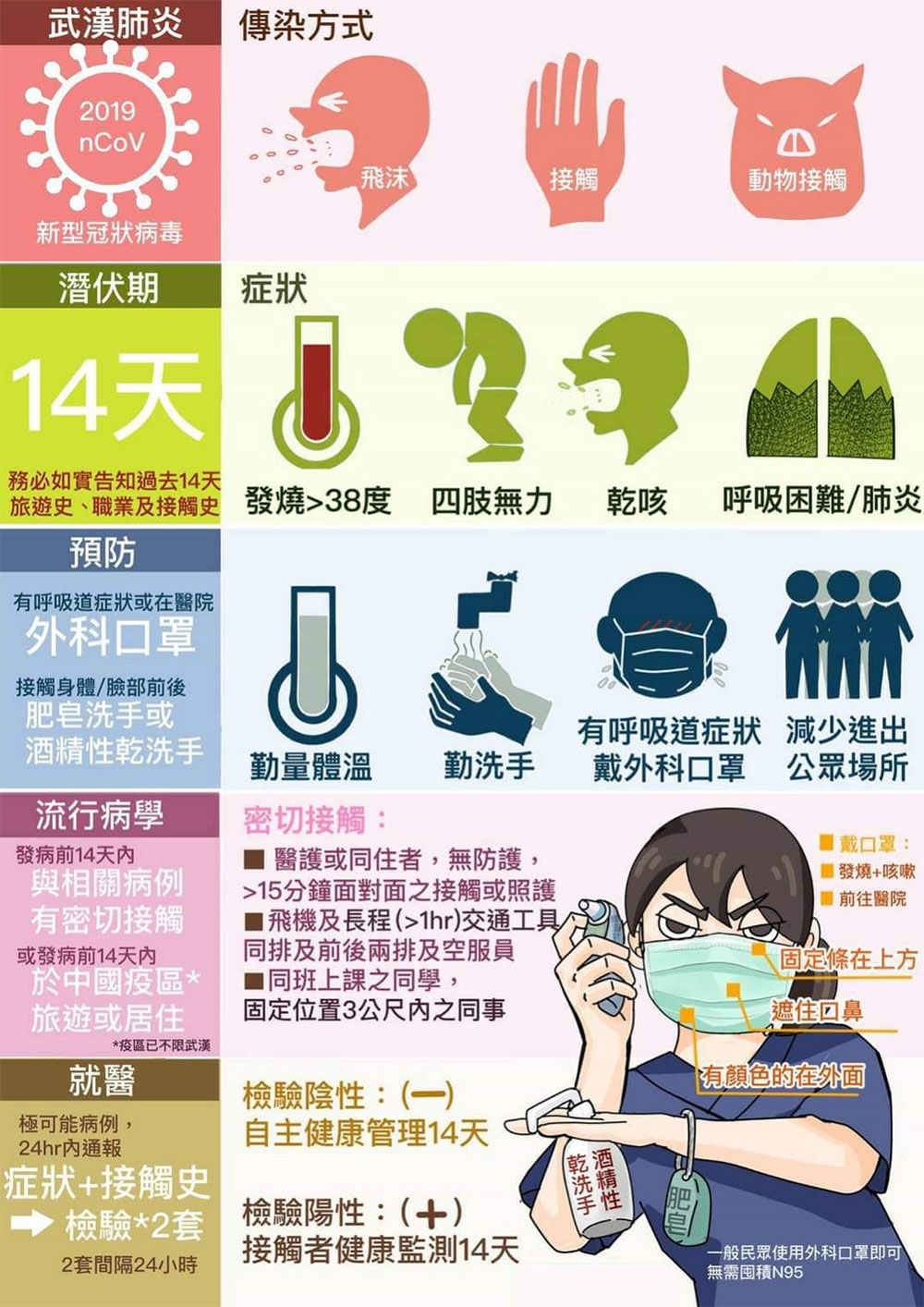 Coronavirus Prevention
ECS is closely monitoring an outbreak of respiratory illness caused by a novel (new) coronavirus first identified in Wuhan, Hubei Province, China. Infections with 2019-nCoV also are being reported in a growing number of countries internationally, including the United States. At ECS, protecting students and the staff is our top priority and responsibility. Therefore, we request everyone, including the instructors, staff, the students, and all related family members, to follow the guidance:
Please DO NOT come to school for TWO WEEKS if you meet the followings:

if you or any family members just returned from China,
if you or any family members develop a fever, cough, or have difficulty breathing,
if you or any family members have direct contact with anyone just from China, including friends and relatives, or
after you or any family members return from China;

Please inform the school immediately.

Absence will not be counted during the quarantine.

Visit:
Thank you for your understanding and cooperation!