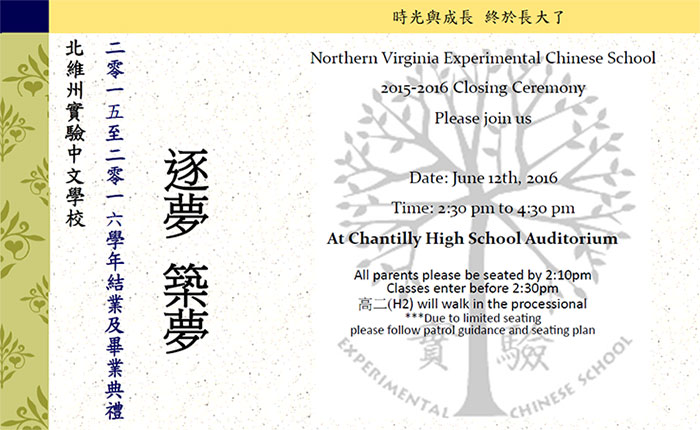 活動花絮
關於結業典禮
地點:學校一樓表演廳 (Auditorium)
時間:六月十二日兩點半開始至四點半結束

(請家長們在兩點十分前就座完畢)

演講廳座位表

由於場地座位有限,請家長們按照座位表裡劃分的座位就座,或依照工作人員的指示入座。
為了避免將表演廳走道擠得水洩不通而無法讓小朋友們順利入座,請家們務必在兩點十分前就座完畢。
實驗家庭大合唱
>我們親愛的實驗教師也是著名合唱指揮張翠蝶老師誠摯歡迎家長/老師/學生加入合聲行列與立人合唱團一同上台。在此呼籲畢業班的同學們也能貢獻您美妙的歌聲,在六月十二日畢業典禮時,唱出你們無比雀躍歡樂的心情。

目前練唱機會將安排在周日(五月十五日,五月二十二日及六月五日)下午在學校練唱,喜愛唱歌的老師們也請把握機會在五月八日前報名。

今年適逢實驗二十五周年慶,在張翠蝶老師的帶領下,數位實驗家長、老師、和學生及立人合唱團將於六月十二日的結業式,上台演唱一首對海外華人具有深切意義的『花蹤之歌』。

藉由這個機會我們也希望不論台上、台下大家庭的成員都能一起高歌,一起譜出美好的句點。

請大家參照歌譜及下載音樂檔聆聽,熟悉這首歌曲。結業式一起大聲歡唱!
About Closing Ceremony
Location: School Auditorium
Date/Time: June 12, 2:30PM - 4:30PM (

Parents should be seated before 2:10pm

)

Due to limited seats, parents should follow the seating plan or the guiding from the volunteers to get seated.
To avoid over crowded in the auditorium aisles and to allow the younger studetns to be seated smoothly, please be seated by 2:10pm. This would allow younger student to enter smoothly.
Chorus Performance
This year ECS will be celebrating its 25th anniversary and Chorus Conductor, Ms. Butterfly Chong, will be leading several ECS parents, teachers, and students, along with Liren Chorus to perform on stage at the closing ceremony on June 12th. The song chosen is "Path of the Flowers" and it is particularly close to heart to those who have left their home country to come to the United States to start a new journey. We hope no matter where you will be seated on June 12th, you can join in to sing the song with us to mark the closing of the year.

Please find the music, audio file, and video in the following links to familiarize yourself with the song. Let's sing along together at the Closing Ceremony!
過去活動紀錄: